Marks, Inscriptions, and Distinguishing Features
None
---
Entry
1

This portrait depicts Andrea de' Franceschi (11 January 1473–13 January 1552), the grand chancellor of Venice. 1 The painting is attributed to the workshop of Titian, or Tiziano Vecellio (1488/90–1576), a giant among sixteenth-century Italian artists.2 Here, De' Franceschi is portrayed at about 80 years of age, his keen intelligence and his perceptive gaze appear undiminished by time, and the letter that he holds alludes to his long career in diplomacy. De' Franceschi is shown wearing his official crimson robe that is representative of the highest state office available to one of his social rank, the cittadini, or Venetian bourgeoisie.3 From that position he led the Chancery of Secretaries, a select group of civil servants responsible for maintaining state records and state secrets.4

2

At an early age, Andrea de' Franceschi would have been enrolled in a special Chancery school that taught Latin, Greek, humanist script, and cipher. 5 In 1492, as a young secretary, he was included on a diplomatic mission to the Hungarian court of Emperor Frederick III (1415–1493), whose journey over the mountainous Brenner Pass and across the Tyrol he recorded.6 On returning to Venice, De' Franceschi steadily advanced through the Chancery's secretarial ranks.7 In 1500, he was elected to a junior position, followed, in 1503, by promotion to the post of secretary to the Consiglio dei Pregadi (Senate). Meanwhile, he continued to accompany envoys and was deployed throughout the Italian Peninsula and across the Mediterranean. In 1519, he was elected secretary to the Council of Ten, the body tasked with the security of the Republic. Finally, in 1529, he was elected grand chancellor, and a few years later his portrait was executed by Titian. Datable some 20 years later is the Clowes portrait, which presents a stately Andrea de' Franceschi in his crimson robe of office. The garment is cut with "ducal" or long, open sleeves—a detail reserved for only the most elite Venetians8—and they are lined with fur.9 The half-length format gives immediacy to the nearly life-sized figure, who stands in a three-quarter pose. This simple arrangement, set against a muted background, encourages the viewer to focus on the sitter's level gaze.

3

The varied application of paint and brushstrokes builds forms describing draped velvet, luxurious fur, and silken hair. This manipulation of color, known as colorito (coloring), was a feature of sixteenth-century Venetian painting,10 while in central Italy, and especially Florence, leading artists such as Michelangelo (1475–1564) gave primacy to disegno (drawing or design).11 Thus, the biographer Giorgio Vasari (1511–1574), a Florentine, criticized Titian for his lack of disegno, whereas the Venetian critic Lodovico Dolce (1508–1568) exalted the artist, writing, "And certainly colouring is so important and compelling that, when the painter produces a good imitation of the tones and softness of flesh, and the rightful characteristics of any object there may be, he makes his paintings seem alive."12 And so it is rendered in the Clowes depiction of Andrea de' Franceschi.

4

Among the known portraits of De' Franceschi, the earliest is Titian's autograph work in the Detroit Institute of Arts from about 1532 (fig. 1).

13

A similar composition is in the National Gallery of Art, Washington, DC (fig. 2),

14

however, handling in that version is comparatively coarse, and the most recently published attributions suggest it is by Titian's workshop or a later copy.

15

De' Franceschi is also included in a group portrait, attributed to an artist working after Titian, known as

Titian and His Friends

of about 1550–1560 (London, Royal Collection Trust).

16

That painting is a compilation of likenesses that are derived from the Detroit portrait and two others by Titian: his

Self-Portrait

, of about 1550–1562 (Berlin, Gemäldegalerie), and the

Portrait of a Friend of Titian

, of about 1550 (Fine Arts Museum of San Francisco).

17

That these three men were depicted together implies a shared friendship. In any case, the commission of more than one portrait would not have been unusual for a prominent patron such as De' Franceschi.

18

In fact, De' Franceschi's earliest testament, written in 1535, states that he owned at least two portraits that Titian had painted of him, and in 1648, Titian's biographer Carlo Ridolfi (1594–1658) reported seeing a portrait of the grand chancellor on view in a Venetian palace.

19

These accounts are too cursory to indicate a specific painting, but the Detroit version is a reasonable candidate for the portrait that Ridolfi mentions.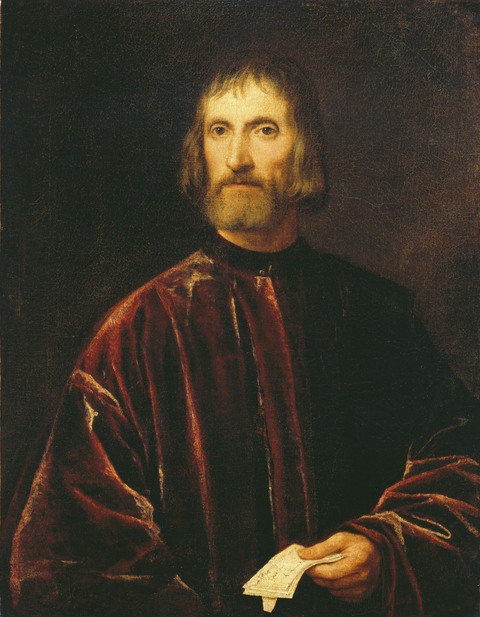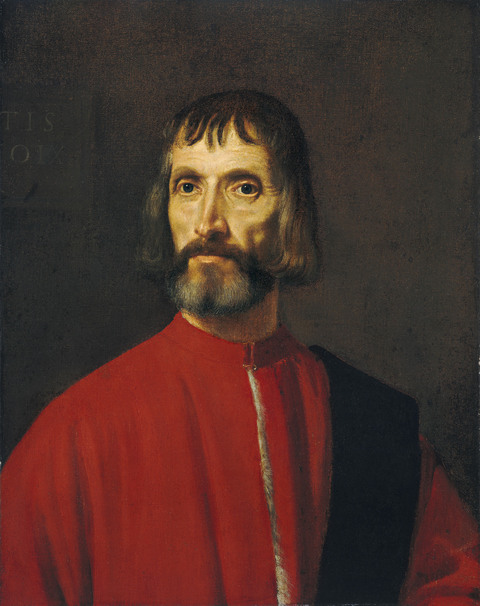 5
Together, the Detroit and Clowes portraits document the beginning and end of De' Franceschi's unusually long, 20-year tenure as grand chancellor. In noting the general similarities of the two paintings, Mark Roskill wrote, "the face-mask and turn of the head correspond closely here, particularly with the Detroit version, and this suggests an attribution to the studio of Titian."
20
Later, Harold Wethey, the author of the most comprehensive catalogue on the artist's oeuvre to date, reassigned it to the Venetian School, with the assertion: "This mechanical portrait surely has no suggestion of Titian's hand."
21
It is true that the Detroit and Clowes paintings are alike in composition and size, but the Clowes version is not a slavish reproduction.
22
Consider the differences in the positioning of the torsos and hands. These are inspired alterations that seem to go beyond mere copying (fig. 3).
23
Underdrawing
visible in the infrared reflectogram of the Clowes portrait indicates that a carbon-based, liquid medium was used at the planning stage to outline the general form around the head and shoulders. A bold line in the area of the hand that was applied only after the painting process had begun implies a later adjustment. Both infrared and X-ray imaging provide evidence of improvised adjustments to the bulk of the proper right sleeve. In addressing the complexities associated with replicas, recent scholarship prudently cautions against the oversimplification of the practices used by Titian and his workshop.
24
That this versatile artist did not repeat himself or produce replicas is misleading. A recent example is revealed by analysis of the portrait of
Daniele Barbaro
of 1545 (Ottawa, National Gallery of Canada) (fig. 4), which, after extensive study, is now understood as a working version that Titian painted more or less at the same time as that of the Prado version. It is not simply a prototype; it reveals aspects of Titian's planning process as he refined the composition (fig. 5).
25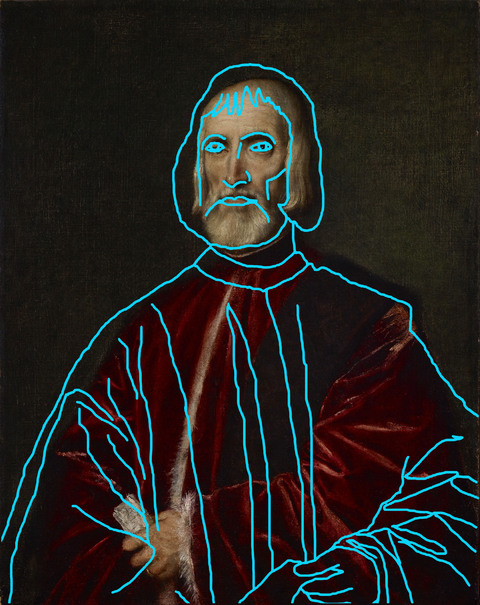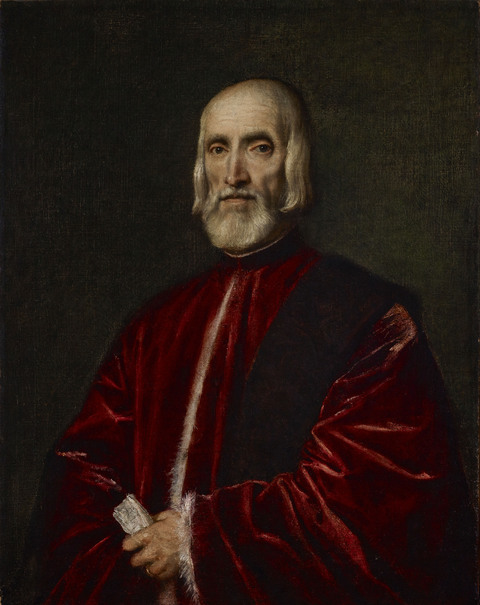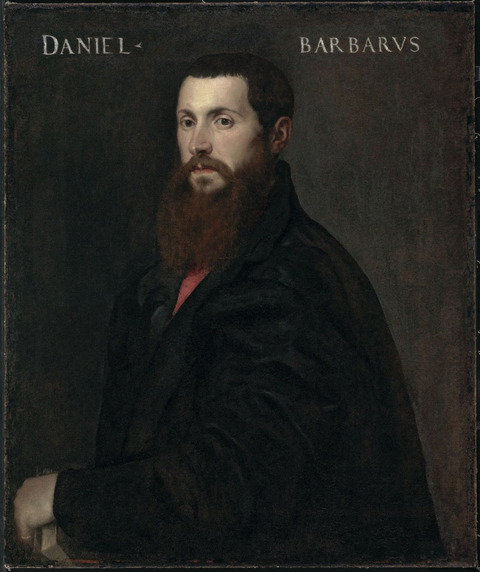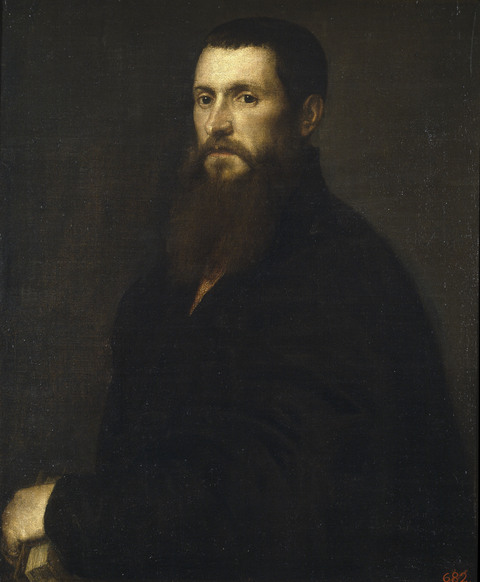 6

Titian produced more portraits than any other genre, and throughout the 1520s–1530s his reputation as a fashionable artist within Venice developed into one of international fame. During this period, he increasingly worked for non-Venetians, garnering rates that nearly priced him out of the local art market. 26 His illustrious patrons included Federico II Gonzaga (1500–1540), the Duke of Mantua, through whom he was introduced to Emperor Charles V (1500–1558) and, later, the emperor's son Philip II of Spain (1527–1598). He also worked for Francesco Maria della Rovere (1490–1538), the Duke of Urbino, and, in Rome, for the Farnese Pope Paul III (1468–1549). In Venice, he continued to produce work for the Ducal Palace and for those who could afford to patronize him.

7

But in addition to his work for powerful rulers, he also painted for his friends, who are assumed to have included De' Franceschi. The basis for this claim appears to originate with Titian's biographer. Ridolfi tells us that Andrea de' Franceschi was "amorevolissimo del pittore" (very dear to the painter). 27 However, no support for this claim, such as that cited of the close friendship between Titian and the famous literatus Pietro Aretino (1492–1556), exists.28 Ridolfi made his statement in connection with De' Franceschi's supposed depiction in Titian's Presentation of the Virgin at the Temple, of about 1534–1538 (Venice, Gallerie dell'Accademia), an identification that has since been refuted.29 Certainly de' Franceschi knew the artist, as is evident by his various portraits, but the depth of their relationship is not clear. It is plausible that an accord between the two may have arisen during Titian's application for a sanseria (a special privilege) that was awarded by the Council of Ten in 1523.30 It is not known whether De' Franceschi facilitated this outcome, but given his position, he certainly had access to this information. At the time, Titian's star was on the rise, and it is conceivable that De' Franceschi recognized the artist's ambition and shrewdly seized the opportunity for a portrait commission. Furthermore, Titian was known to have worked in exchange for favors among his network of associates.31 Consider, too, De' Franceschi's own aspirations. Not only did he have social standing as a cittadino originario, he was also a very competent administrator and, importantly, possessed the financial means to facilitate his assent through the ranks.32 At the very least, theirs was an accord between a leading artist and an affluent patron.

8

G.H.A. Clowes secured written expertises from the Italian Renaissance scholars Georg Gronau and Giuseppe Fiocco in 1928, and from Evelyn Sandberg Vavalà in 1935. Gronau and Fiocco dated the portrait to about 1550, whereas Sandberg Vavalà more broadly ascribed it to 1540–1550.

33

The art historian William Suida later noted the corresponding detail of the hand in the similarly dated portrait of

Philip II

in armor in the Prado.

34

Indeed, their form is comparable, as is also the hand depicted in the workshop

Portrait of Marcantonio Trevisan, Doge of Venice

, of about 1553–1554 (Budapest, Museum of Fine Arts) (figs. 6 and 7).

35

In 1957, Bernard Berenson expressed doubt about the authorship, attributing it to Titian with a question mark, but it seems that he knew the Clowes portrait probably through a photograph.

36

In 1965, Francesco Valcanover also doubted the attribution; Rodolfo Pallucchini listed it in 1969 as by a follower of Titian; Terisio Pignatti catalogued it in 1981 as a variant of the Detroit painting, and it is was excluded from the catalogues by Filippo Pedrocco and Peter Humfrey, in 2001 and 2007 respectively.

37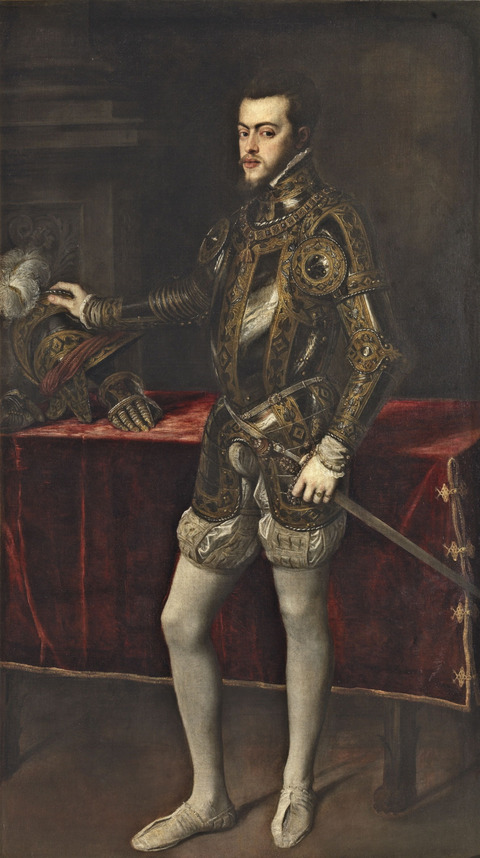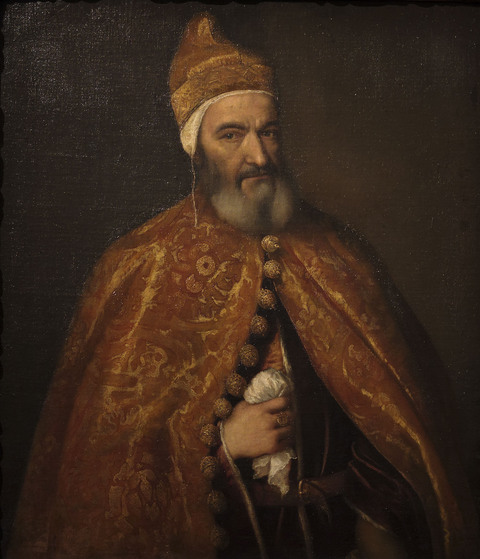 9
The portrait has survived in relatively good condition with losses generally restricted to areas of the background, the garment, and along the bottom of the canvas. (For a full report of the painting's treatment history see the
Technical Examination Report
that accompanies this essay.) According to records, the conservator William Suhr treated the painting on three separate occasions.
38
The first was in 1935, shortly after the acquisition, of which Dr. Clowes wrote to inform Grassi that "Mr. Suhr has been very successful in cleaning the picture. …the general effect is immeasurably finer than it was before being cleaned."
39
In response, Grassi wrote, "I was also interested and quite amazed hearing of the
retouches
on the hand—which I recall your considering swollen."
40
The painting was returned to Suhr again, in 1955, for a second treatment that included cleaning. Comparative analysis between the photograph dated to about 1928 and those photographs taken both before and after the 1955 cleaning are informative of the changes that were made (figs. 8 and 9).
41
These illustrate the marked improvement to the area of the hand mentioned by Dr. Clowes, above. Another notable difference is that the letter held by De' Franceschi no longer extends below his hand. The later photograph also reveals scattered paint losses over much of the painting (also see the
X-ray
). Suhr's third treatment, of 1960, was intended to address "a weakness in the bond between the support, in this case canvas, the ground and the paint film, which causes the flaking losses which has plagued us twice before. Fortunately, these blemishes are restricted to the garment. I will have to take off the
varnish
, fasten all loose paint, and attenuate the few losses, and then re-varnish the painting."
42
These findings do not contradict Wethey's later observation that the painting was "considerably
restored
," but they are important in providing a more accurate account of its condition over time.
43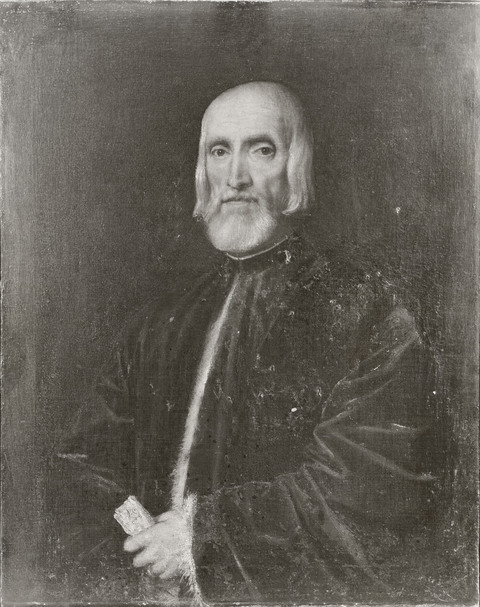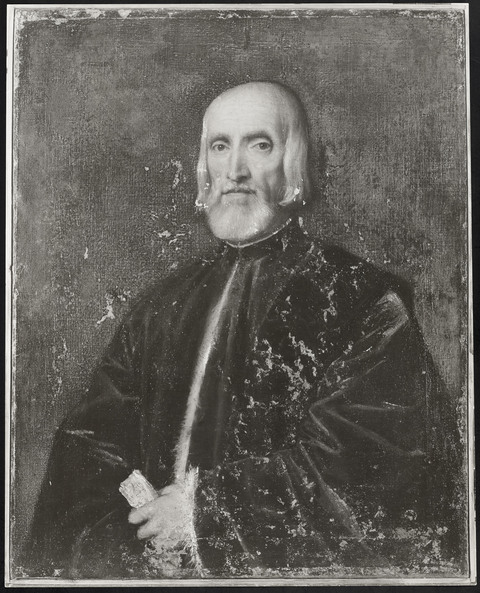 10
Recent technical examination of the Clowes portrait has included materials analysis and scientific imaging.
44
Cross-sections prepared from paint samples taken from the edges of existing areas of loss located at the proper left eye and hand indicate the thinner application of paint in both areas
(
fig. 10). This corresponds with the finer handling of the head, which has been finished to a higher degree and is notable for its remarkably preserved state. The facial features are distinctly modeled—hollows of the eyes, sunken cheeks, and the length of nose—and framed by the sitter's hair and beard, strands of which remain delineated by fine brushstrokes. In contrast, the sample taken from the area of the robe reveals a rich and vibrant layering of paint and
glazes
accomplished through the judicious application of color
(
fig. 11). The brushstrokes used to build up the garment are loose and free, whereas the fur lining—executed with a dry brush—is white lead paint dragged along the seam and finished in quick, staccato-like strokes suggesting a downy texture. The muted background is a broadly applied copper-resinate
pigment
. This palette is representative of pigments used in the sixteenth century and available through Venice's renowned
vendicolori
(specialist pigment sellers).
45
The materials and techniques used here are consistent with Titian and his workshop practices.
46
These results, which neither prove nor disprove the attribution of this portrait, provide important information that adds to our understanding of this painting and the methods used in its execution.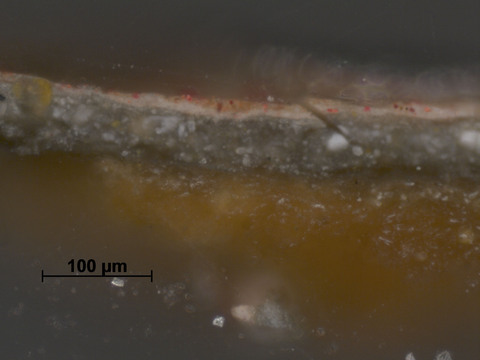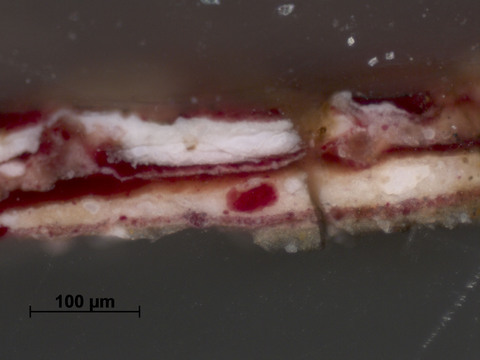 11

The Clowes Portrait of Andrea de' Franceschi is a frank portrayal, and one that was very likely commissioned by De' Franceschi himself. It is known from his testament that he intended to bequeath two of his earlier portraits to a nephew, and the Clowes version demonstrates the continued interest in his commemoration.47 The high degree of finish given to the painting and its scale imply that it was hung at an accessible level to the viewer. It may have been installed in conjunction with his other likenesses, forming a type of picture gallery. Space within the Venetian home of that period was permeable, with rooms that, today, we might consider private, then also functioned as public areas; thus, the home of a civil servant necessarily straddled both the domestic and civic realms. Within this context, the display of portraiture such as the Clowes painting was intended to impress a varied audience.

12

Focusing on this image of the grand chancellor, we can note the change from his earlier portrait. Gone is the distant stare of a newly elected official; his familiar face is now animated as his eyes engage the viewer. The reference back to the Detroit version may be intentional. There, De' Franceschi is depicted proffering a freshly creased document, its seal broken. 48 Given the date of that portrait, it is possible that the letter he holds announces his election to the post of grand chancellor. Years later, in the Clowes portrait, De' Franceschi is again shown with a letter, and this time he holds it tightly. There is no seal, and the somewhat ruffled edges suggest that the document has been read and refolded often. Do the portraits depict the same document, symbolically referring to his longevity in office? Alas, any inscription that it once bore has long since abraded beyond legibility, so one can only speculate.49
---
Author
---
Provenance
Angela Rossati Bono, Venice, probably by decent within the family of the sitter;50
(Arturo Grassi, Florence and New York);51
G.H. A. Clowes, Indianapolis, in 1935;
The Clowes Fund, Indianapolis, 1958–2016, and on long-term loan to the Indianapolis Museum of Art since 1971 (C10074);
Given to the Indianapolis Museum of Art, now the Indianapolis Museum of Art at Newfields, in 2016.
---
Exhibitions
John Herron Art Museum, Indianapolis, 1959, Paintings from the Collection of George Henry Alexander Clowes: A Memorial Exhibition, no. 55, as Titian;
The Art Gallery, University of Notre Dame, Notre Dame, IN, 1962, A Lenten Exhibition, no. 47, as Titian;
Indiana University Art Museum, Bloomington, 1965, Italian and Spanish Paintings from the Clowes Collection, no. 20, as Titian;
Indianapolis Museum of Art at Newfields, 2019, Life and Legacy: Portraits from the Clowes Collection, as Workshop of Titian.
---
References
Catalogue of the Paintings and Sculpture given by Edgar B. Whitcomb and Anna Scripps Whitcomb to the Detroit Institute of Arts (Detroit: Detroit Institute of Arts, 1954), 107;
William Suida, "Miscellanea Tizianesca—Part II," Arte Veneta 10 (1956): 76 [71–81], fig. 74. (reproduced);
Bernard Berenson, Italian Pictures of the Renaissance: Venetian School (New York: Phaidon Press, 1957), 1:186;
Paintings from the Collection of George Henry Alexander Clowes: A Memorial Exhibition, exh. cat. (Indianapolis: John Herron Art Museum, 1959), no. 55 (reproduced);
Francesco Valcanover, Tutta la pittura di Tiziano (Milan: Rizzoli, 1960), 2:66, no. 155B (reproduced);
A Lenten Exhibition, exh. cat. (Notre Dame, IN: The Art Gallery, University of Notre Dame, 1962), no. 47;
Italian and Spanish Paintings from the Clowes Collection, exh. cat. (Bloomington: Indiana University Art Museum, 1965), no. 20;
Francesco Valcanover, All the Paintings of Titian, trans. Sylvia J. Tomalin, part 4 (New York: Hawthorn Books, Inc., 1965), 98, no. 155b (reproduced);
Mark Roskill, "Clowes Collection Catalogue" (unpublished typed manuscript, IMA Clowes Archive, Indianapolis Museum of Art, Indianapolis, IN, 1968);
Rodolfo Pallucchini, Tiziano, 2 vols. (Florence: G. C. Sansoni, 1969), 1:223 and 348; 2: fig. 672 (reproduced);
Francesco Valcanover, L'opera completa di Tiziano (Milan: Rizzoli, 1969), 107, no. 157 (reproduced);
Harold E. Wethey, The Paintings of Titian (London: Phaidon Press, 1971), 2:164, no. X-39, pl. 253 (reproduced);
A. Ian Fraser, A Catalogue of the Clowes Collection (Indianapolis: Indianapolis Museum of Art, 1973), 26 (reproduced);
Fern Rusk Shapley, Catalogue of the Italian Paintings (Washington, DC: National Gallery of Art, 1979), 1:508;
Terisio Pignatti, Titian, ed. David Piper, trans. Judith Landry (New York: Rizzoli, 1981), 2:78, no. 574 (reproduced); John Shearman, The Early Italian Pictures in the Collection of Her Majesty the Queen (Cambridge: Cambridge University Press, 1983), 270;
Filippo Pedrocco, Titian (New York: Rizzoli, 2001), 152;
Deborah Howard, "Titian's Portraits of Grand Chancellor Andrea de' Franceschi," Artibus et Historiae 37, no. 74 (2016): 146 [139–151], fig. 8 (reproduced).
---
Technical Notes and Condition
Cusping along all four edges indicates that the canvas is close to its original size. From damage visible in the X-ray there is evidence to suggest that, at one point, it was resized to fit a smaller stretcher. This is evident from lines along all four sides of the canvas (consistent with loss of ground and paint) that indicate a folding edge. This was later reincorporated into the current composition, so that the painting is now closer to its original size. The original plain-weave canvas has been glue lined with a more thickly woven lining canvas. Infrared reflectography reveals evidence of underdrawing used to sketch the general form of the sitter in areas around the head, robe, and hand. The paint is medium thickness and loosely applied with broad brushstrokes, with the exception of the areas of the face and hand that show a finer handling. There is filling and retouching in areas of previous damage and loss primarily in the sitter's hand, robe, and background. The writing on the letter is abraded beyond legibility. The painting is in stable condition. Past conservation treatments include removal of overpainting and discolored varnish, stabilization of flaking, inpainting, and varnishing.
---
Notes