Overview
Accession number: 2014.90
Artist: After Hans Holbein the Younger
Title: Portrait of Hans Holbein
Materials: Oil (untested) on Baltic oak panel
Date of creation: After 1544
Previous number/accession number: C10050
Dimensions: 13.6 cm diameter
Conservator/examiner: Roxane Sperber
Examination completed: 2021
Distinguishing Marks
Front:
Item 1. Painted inscription, left side of figure, "H •AN•1542" (tech. figs. 1, 2).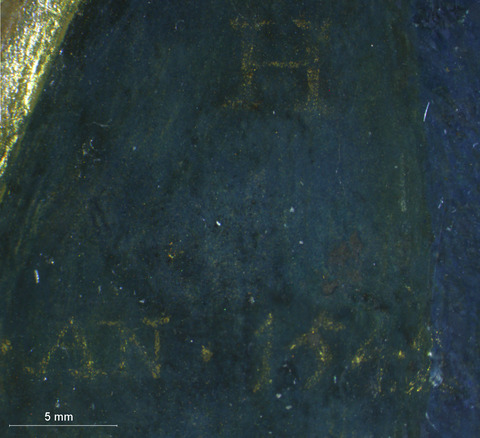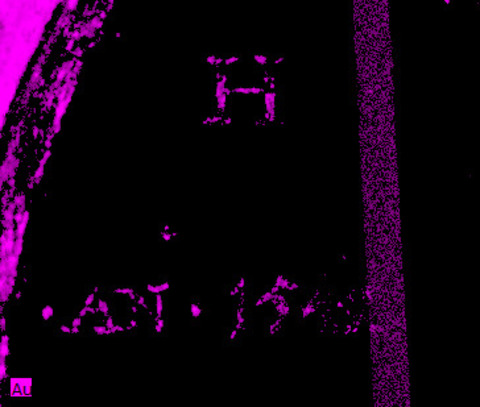 Item 2. Painted inscription, right side of figure, "H •AÆTA•45" (tech. figs. 3, 4).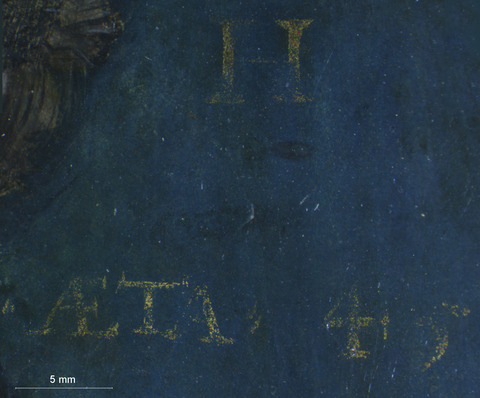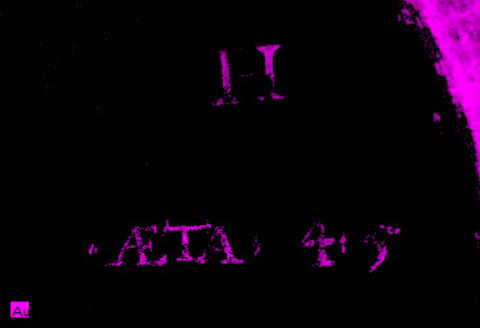 Back:
Item 3. Paper label with handwritten inscription in pencil and brown ink, upper-right quadrant, "30 30" (tech. fig. 5).
Item 4. Inscription in yellow paint, lower-left quadrant, "17" (tech. fig. 5).
Item 5. Inscription in white paint, lower-right quadrant "2014.90" (tech. fig. 5).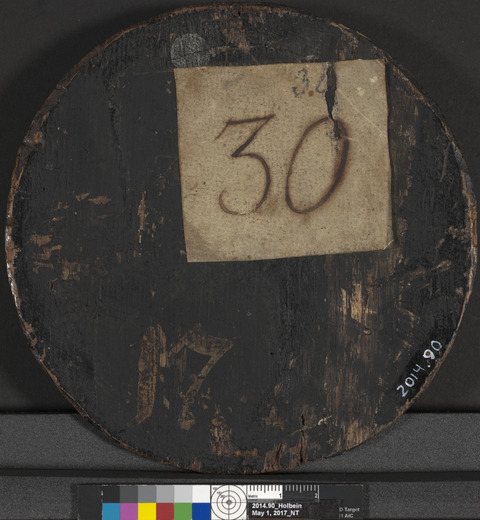 Summary of Treatment History
Documentation suggests a series of condition assessments and treatments were carried out on the collection around the time the works were moved from the Clowes residence to the IMA in 1971. A condition report by Paul Spheeris in October of that year, likely carried out before the paintings were relocated, described the painting as being in "O.K." condition.1
A second condition assessment was carried out upon arrival of the paintings at the IMA. This assessment describes the work as having a discolored coat of natural resin varnish. In 1974, a condition assessment, treatment, and investigation of the collection was carried out by the Intermuseum Conservation Association at Oberlin College. They described this painting as having a discolored natural resin varnish with surface grime. Removal of a darkened surface coating and restoration paint was recommended as well as the application of a new varnish layer and inpainting.2 The painting was cleaned and recoated with varnish, and areas of loss were inpainted. An X-radiograph of the painting was made at this time.3
In 1996, a memorandum summarizing treatment and examination of the Clowes Collection from the time it entered the IMA suggested that in 1983 the painting was surface cleaned, retouched, and a new surface coating was applied.4
A frame was made in 2006. It was designed by David Miller and made by Tom Webster, following frames on other small, circular works.
Current Condition Summary
The painting is in overall good condition. The panel is structurally stable. Aesthetically, the varnish is well saturating. The inpainting is slightly discolored.
Methods of Examination, Imaging, and Analysis
| Examination/Imaging | Analysis (no sample required) | Analysis (sample required) |
| --- | --- | --- |
| Unaided eye | Dendrochronology | Microchemical analysis |
| Optical microscopy | Wood identification | Fiber ID |
| Incident light | Microchemical analysis | Cross-section sampling |
| Raking light | Thread count analysis | Dispersed pigment sample |
| Reflected/specular light | X-ray fluorescence spectroscopy (XRF) | Fourier-transform infrared spectroscopy (FTIR) |
| Transmitted light | Macro X-ray fluorescence scanning (MA-XRF) | Raman microspectroscopy |
| Ultraviolet-induced visible fluorescence (UV) | | |
| Infrared reflectography (IRR) | | Gas chromatography–mass spectrometry (GC-MS) |
| Infrared transmittography (IRT) | | Scanning electron microscope -energy dispersive X-ray spectroscopy (SEM-EDS) |
| Infrared luminescence | | Other: |
| X-radiography | | |
---
Technical Examination
Description of Support:
Analyzed Observed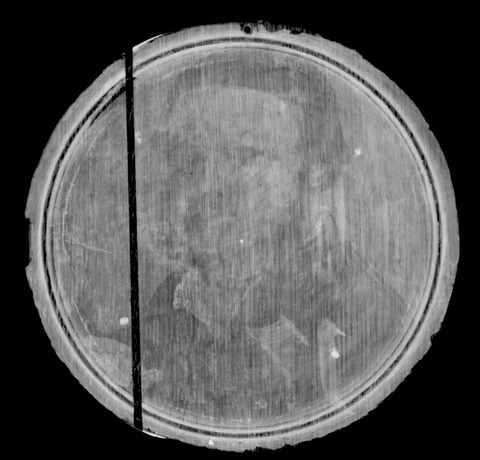 Material (fabric, wood, metal, dendrochronology results, fiber ID information, etc.):
The support is a thin eastern Baltic oak (Quercus) panel that is probably, though not certainly, constructed from a single vertical oak board.5 Both sections of the board are composed of slow-grown and straight-grained timber. Dendrochronology was performed on the panel using its right section, which contained sufficient rings to perform dendrochronological analysis. The analysis indicated that the tree it was made from was probably felled after about 1544, thus providing a terminus post quem for the work assuming that the panel was constructed of a single board. If the section of the panel that is left of the repair was in fact a different board, it would give the panel a date of after about 1520.6
Characteristics of Construction / Fabrication (cusping, beveled edges of panels, seams, joins, battens):
The panel appears to be constructed of a single board that was later cut and repaired with a fillet of wood (tech. fig. 6).7 A carved wooden bead is present around the edge of the panel. The edges of the support are beveled (tech. fig. 7).
Thickness (for panels or boards):
3 mm (5 mm with raised carved wooden bead)
Production/Dealer's marks:
None
Auxiliary Support:
Original Not original Not able to discern None
Condition of Support
The support is in good condition despite the addition of a narrow fillet through the entire height of the support. The support has a slightly convex warp visible in raking light (tech. fig. 7). No further interventions, such as thinning or cradling, appear to have been carried out on the panel.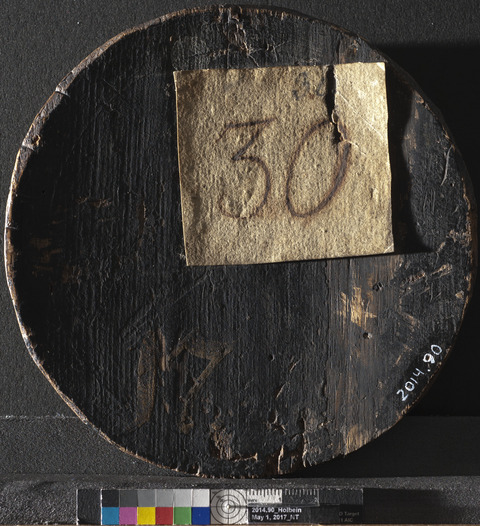 Description of Ground
Analyzed Observed
Materials/Binding Medium:
The ground is a buff-colored layer that is visible through some cracks (tech. fig. 8). There may be an imprimatura present on the panel, but this could not be confirmed.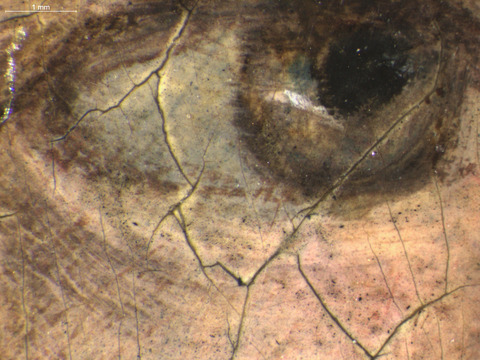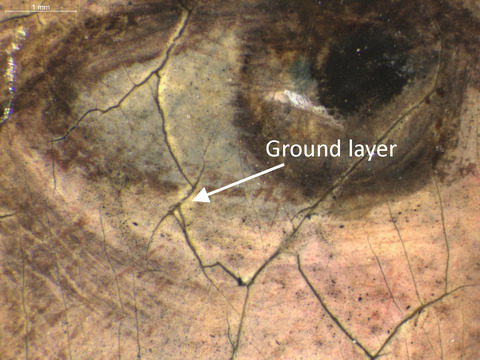 Color:
Buff
Application:
Ground is applied both to the panel and over the carved wooden bead onto the gilded portion of the panel.
Thickness:
The ground is thinly applied.
Sizing:
A layer of glue sizing was likely applied to prime the panel before the application of the ground, but this was not confirmed.
Character and Appearance (Does texture of support remain detectable/prominent?):
The panel is smooth in appearance.
Condition of Ground
The ground is in good condition. A calcium-containing fill was applied to the fillet insert before inpainting (tech. fig. 9).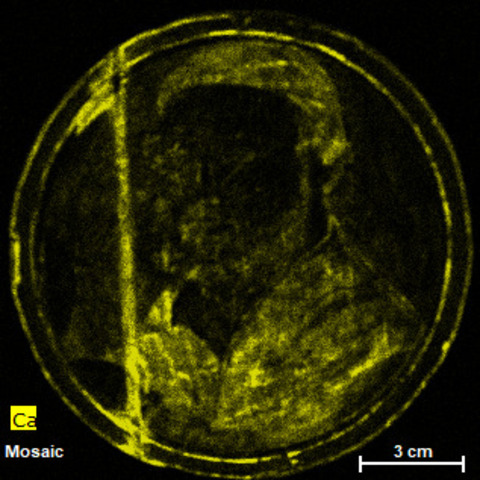 Description of Composition Planning
Methods of Analysis:
Surface observation (unaided or with magnification)
Infrared reflectography (IRR)
X-radiography
Analysis Parameters:
| X-Ray equipment | GE Inspection Technologies Type: ERESCO 200MFR 3.1, Tube S/N: MIR 201E 58-2812, EN 12543: 1.0mm, Filter: 0.8mm Be + 2mm Al |
| --- | --- |
| KV: | 21 |
| mA: | 3.0 |
| Exposure time (s) | 75 |
| Distance from x-ray tube: | 36" |
| IRR equipment and wavelength | Opus Instruments Osiris A1 infrared camera with InGaAs array detector operating at a wavelength of 0.9-1.7µm. |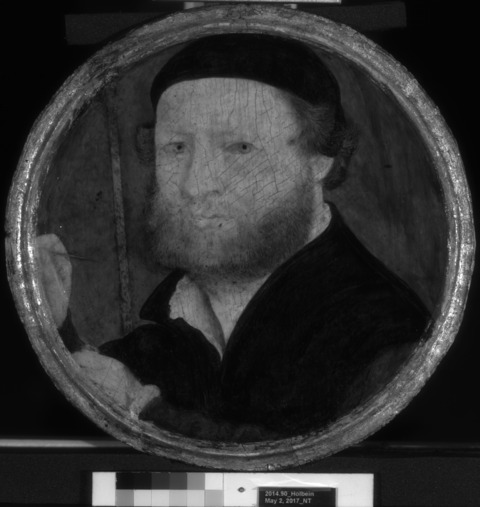 Medium/Technique:
There is no underdrawing visible in the infrared reflectogram (tech. fig. 10). However, the way in which the paint was applied suggests that there was some preparatory drawing or painting to guide the application of paint.
Description of Paint
Analyzed Observed
Application and Technique:
Water gilding: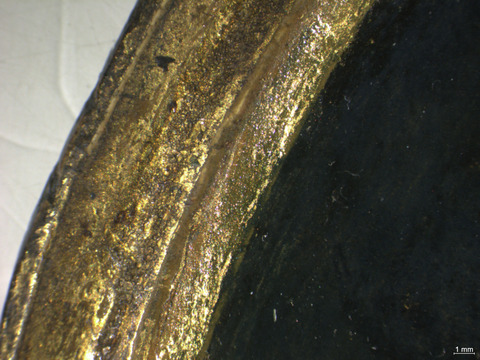 The X-radiograph (tech. fig. 6) shows an incision line slightly inset from the edge of the painted area where the edge of the water gilding was delineated. Iron-containing orange bole was applied up to this line, and gold leaf was applied over the bole (tech. fig. 12).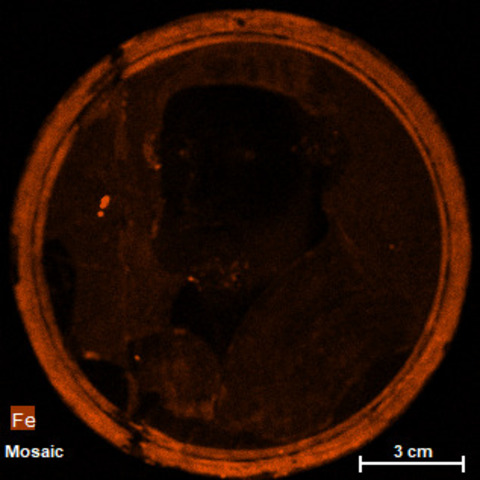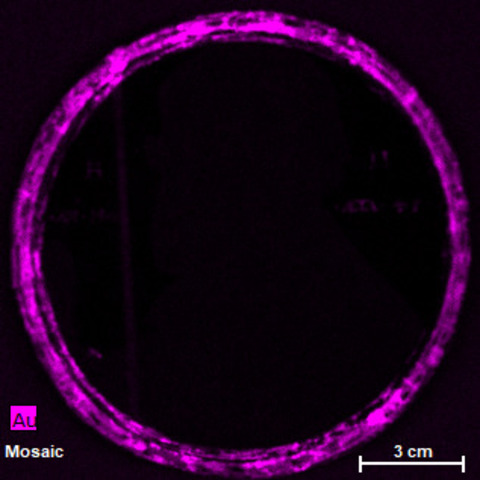 The dark blue background, composed primarily of azurite, appears to have been painted first, leaving a reserve for the figure (tech. fig. 13). Although no underdrawing is visible in the infrared reflectogram, the crisp application of the background paint suggests it was being guided by some type of underdrawing or painting.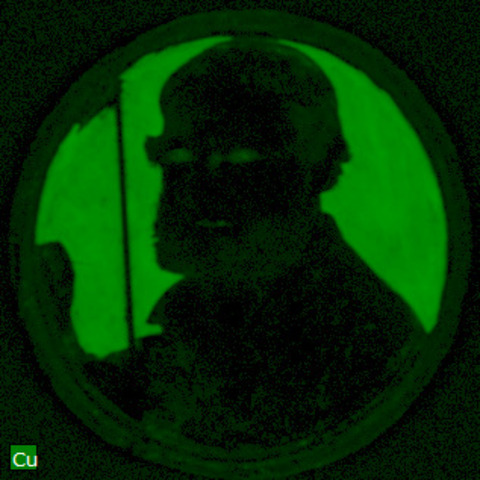 Skin:
A pink midtone has been delicately blend into light pink/white highlights on the bridge of the figure's nose and highlights around the eyes. Shadows are glazed over the midtone and blended to created a seamless transition (tech. fig. 14). Azurite has been added to create cool shadows in the skin. This is especially apparent around the eye sockets and can be seen in the MA-XRF scan for copper (tech. fig. 13) and photomicrographs (tech. figs. 14–16).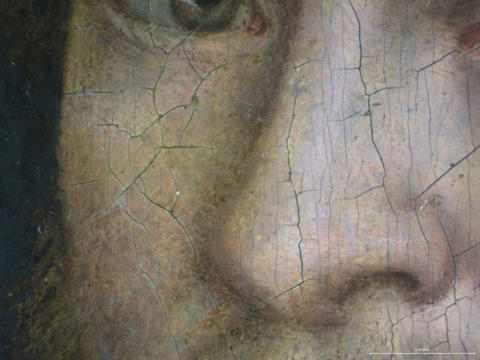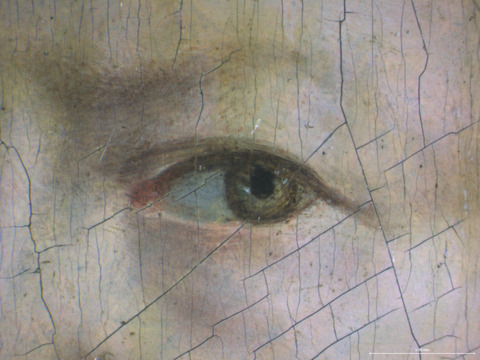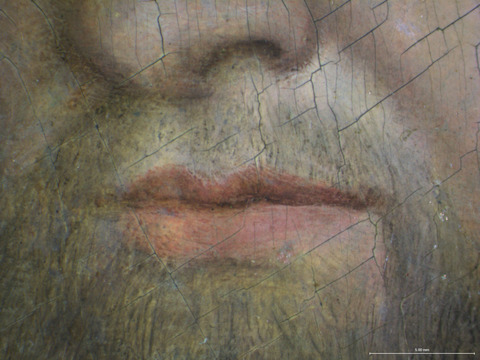 Shell gold:
The inscriptions on the left and right of the figure were applied using an oil-containing mordant (untested) and shell gold (see tech. figs. 1–4). The object in the artist's proper left hand is also applied using shell gold (tech. fig. 17).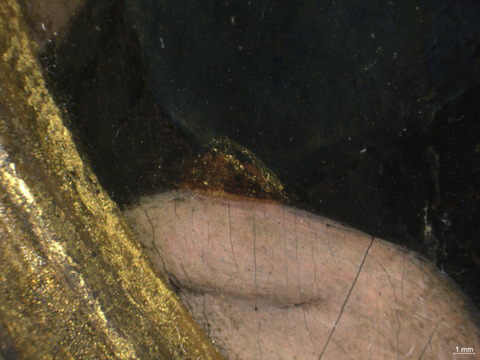 Painting Tools:
Small brushes
Binding Media:
Oil (untested)
Color Palette:
The color palette is limited, consisting of black, white, blue, and browns in addition to gold. MA-XRF scanning confirmed the presence of mercury (tech. fig. 18), lead (tech. fig. 19), manganese (tech. fig. 20), iron (tech. fig. 12), phosphorous, calcium (tech. fig. 22), gold (tech. fig. 12), and copper (tech. fig. 13), suggesting the use of vermilion in the skin, lead white in the face and hands, bone black in the figure's costume and hat, and umber in the hair and beard. Azurite is present in the face—particularly around the eyes—and the background (tech. fig. 13).
XRF Analysis: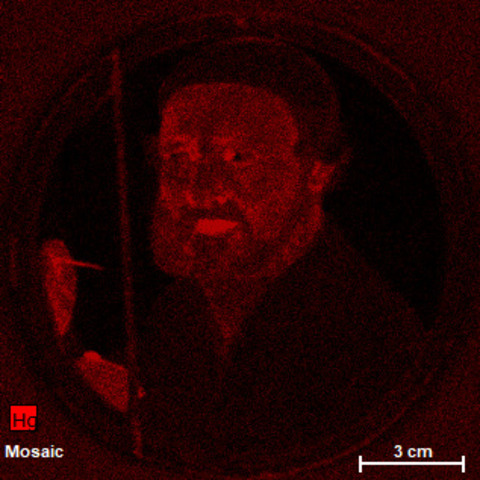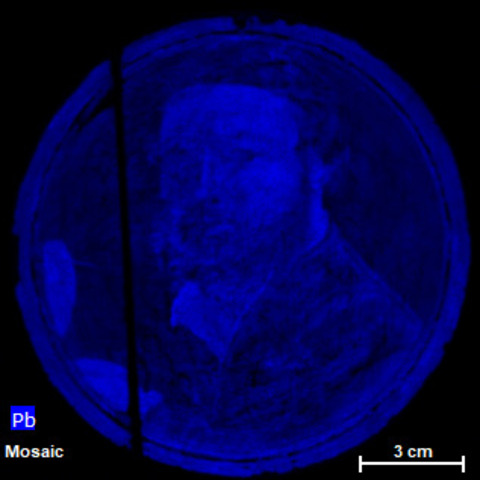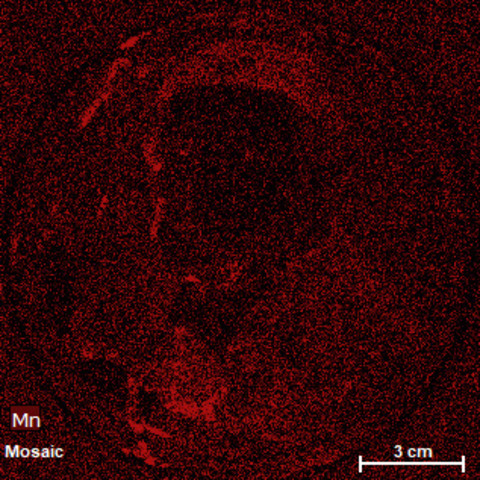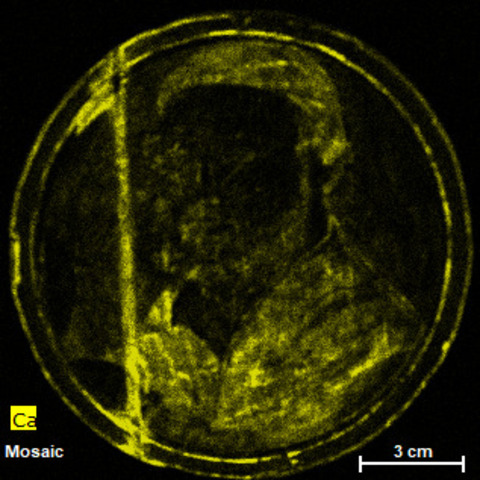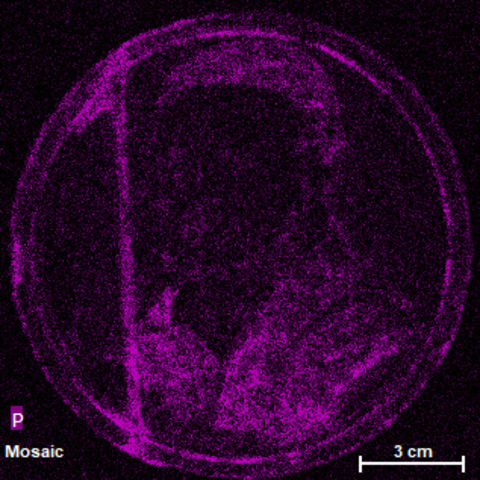 Surface Appearance:
The paint surface is very smooth with very little impasto.
Condition of Paint:
The paint is in generally good condition. Inpainting is present along the fillet insert.
Description of Varnish/Surface Coating
Analyzed Observed Documented
| Type of Varnish | Application |
| --- | --- |
| Natural resin | Spray applied |
| Synthetic resin/other | Brush applied |
| Multiple Layers observed | Undetermined |
| No coating detected | |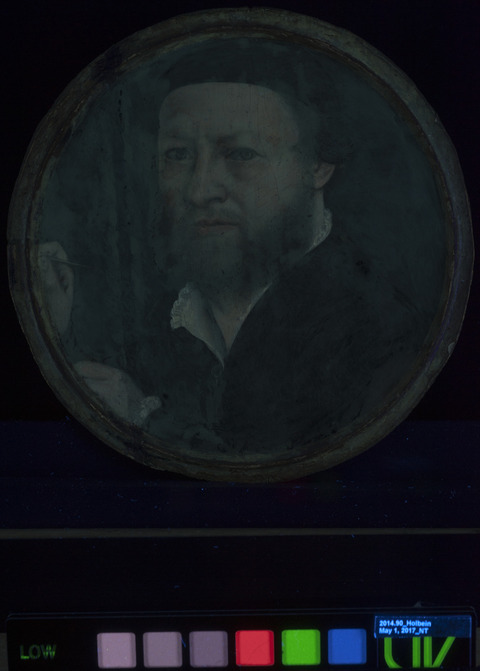 During the 1983 treatment, a protective coating of Paraloid B-72 in toluene and xylene was applied to prevent blooming. Retouching was composed of loose pigments in Soluvar dissolved in naphtha solvent. A final surface coating using a 15% solution of Winton varnish in naphtha was applied by brush.8 The inpainting is reserved primarily to the wooden insert with several other localized dots across the painting (tech. fig. 23).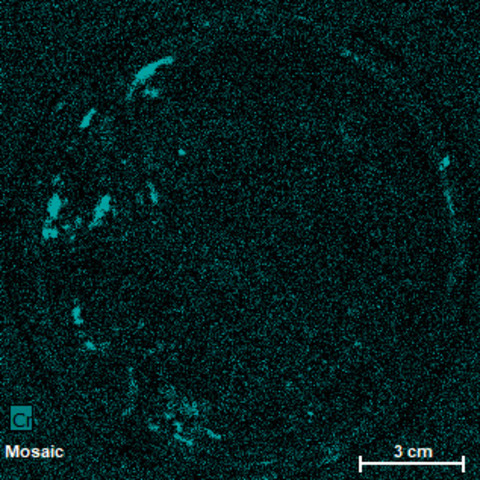 The painting has a streaky coating with a slight fluorescence when viewed under ultraviolet-induced visible fluorescence (tech. fig. 23). The 1983 treatment surface cleaned the painting but did not remove a varnish layer, suggesting there may be residual natural resin varnish from a previous treatment still on the panel.
Condition of Varnish/Surface Coating
Despite the presence of what appears to be a residual natural resin varnish coating, in addition to the Paraloid B-72 coating, the painting does not have a yellowed appearance, and the varnish layers are well saturating and clear. The inpainting is quite minimal, but the line along the insert has slightly discolored and is no longer well matched (tech. fig. 24).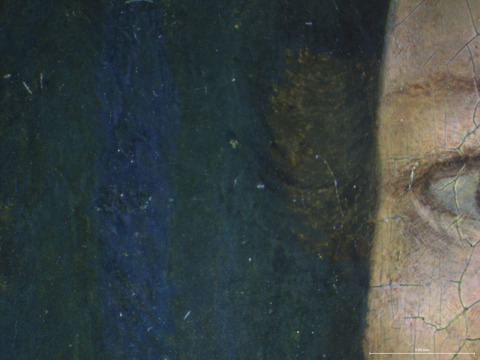 Description of Frame
Original/first frame
Period frame
Authenticity cannot be determined at this time/ further art historical research necessary
Reproduction frame (fabricated in the style of)
Replica frame (copy of an existing period frame)
Modern frame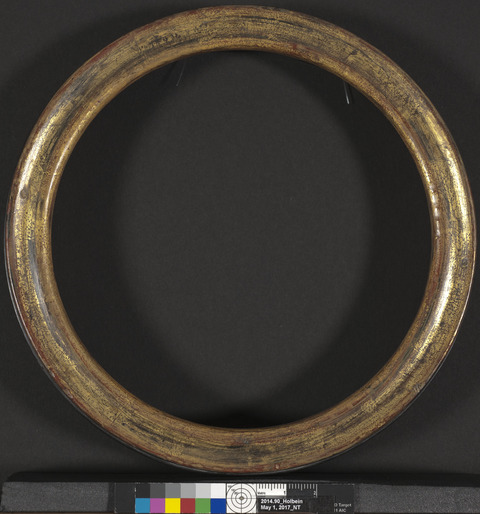 Frame Dimensions:
Outside frame dimensions: 15.7 × 15.7 × 2 cm
Sight size: 12.7 × 12.7 cm
Distinguishing Marks:
Item 6. White paint, lower portion of the frame, "2014.90" (tech. fig. 26).
Item 7. Red paint, upper portion of the frame, "C10050" (tech. fig. 26).
Description of Molding/Profile:
The carved wooden frame was made in 2006 by Tom Webster (tech. fig. 25). It was designed by IMA conservator David Miller after original frames on similar works. It was gilded by frames technician Laura Mosteller.
Condition of Frame
The frame is in excellent condition.
---
Notes
---
Additional Images