Marks, Inscriptions, and Distinguishing Features
None
---
Entry
1

This curious Portrait of a Young Man features the bust-length profile of an unidentified sitter.1 The painted surface is highly abraded, yet strong, fluid contours and adept modeling convey volume and remarkable plasticity. The conventional profile format—inspired by Greco-Roman coins and medals—remerged under the influence of Renaissance humanism.2 Credited with reviving this pictorial tradition is the polymath Leon Battista Alberti (1404­–1472) with his independent, bronze self-portrait of 1435 (Washington, DC, National Gallery).3 Scholarship dates the Portrait of a Young Man as early as the 1430s, placing it at the forefront of the genre.4

2

This painting is attributed to the Florentine artist Paolo Uccello (born Paolo di Dono, 1397–1475). 5 Among his contemporaries, Cristoforo Landino (­1424­–1498) reported that the artist was a "good composer and varied," and the biographer Giorgio Vasari (1511–1574) wrote that Uccello's paintings were to be found throughout Florence.6 Yet relatively few of his works survive, and precious little is known about his formative training. Documents dated 1407 record him as a garzone (junior assistant) within the workshop of the painter and sculptor Lorenzo Ghiberti (1378–1455).7 His was a large and influential studio famed for producing two sets of bronze doors for the Florence Baptistery, including the acclaimed Gates of Paradise (1425–1452). Some the greatest sculptors, painters, and architects to emerge in Florence in this period were assistants in Ghiberti's workshop, including Donatello, Michelozzo, and Benozzo Gozzoli. This exciting environment undoubtedly set the stage for Uccello's pioneering work on visual perspective illustrated in the three panels featuring scenes of The Battle of San Romano, 1430s­–1440s (London, National Gallery; Paris, Louvre Museum; and Florence, Uffizi Gallery).8

3

According to his contemporaries, Uccello was a skilled and prolific artist, yet evidence of his work as a portraitist is rare. Among his documented paintings is the

Equestrian Monument to Sir John Hawkwood

of 1436 (Florence, Santa Maria del Fiore).

9

Other types are the crypto-portraits in the aforementioned

San Romano

scenes and conceivably those more distinguished figures in the

Stories of Noah

from the mid-to-late 1440s (Chiostro Verde in Santa Maria Novella, Florence).

10

With regards to the Clowes portrait, there are notable similarities with figures attributed to Uccello painted in the Marcovaldi Chapel in Prato Cathedral—in particular, that of a male in the

Presentation of the Virgin

, 1435–1436.

11 (

fig. 1

)

The long neck, rounded jaw, cropped hair layered in waves, and the use of light to model the face convey an idealized youth who is very much like that of the Clowes sitter. The Prato figure is part of a group that loosely quotes a passage from Masaccio's

Raising the Son of Theophilus and St. Peter Enthroned

of 1427 (Florence, Brancacci Chapel, Santa Maria del Carmine).

12

Uccello was intimately familiar with Masaccio's work based upon an earlier collaboration with the artist at the Carnesecchi Chapel in Florence, which also included the painter Masolino on an altarpiece dated around 1423.

13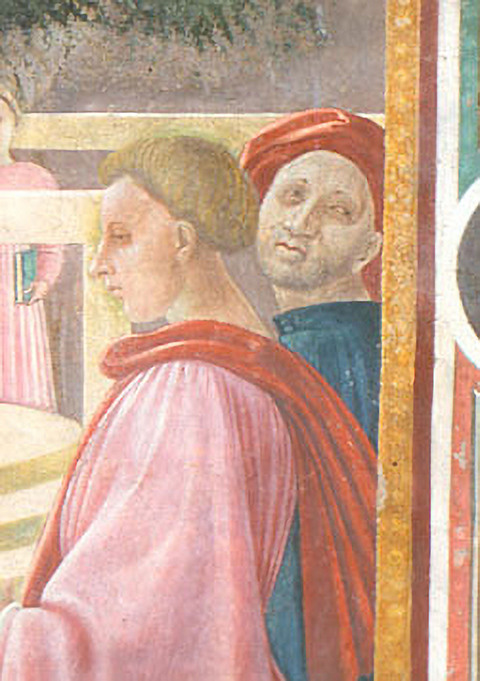 4
Unlike the figure in the Prato cycle, which is secondary to the narrative, the Clowes painting is an independent portrait. Scholars have addressed similarly composed examples, including the
Portrait of Matteo Olivieri
, about 1430s (Washington, DC, National Gallery of Art), the
Portrait of
Michele Olivieri
, about 1450 (Norfolk, VA, Chrysler Museum), and the
Profile a Young Man
of about 1440–1442 (fig. 2).
14
The comparatively hard physiognomy displayed among these figures is in marked contrast to the sinuous quality of the Clowes sitter's profile, a trait that is also seen among Uccello's figures in
The Hunt in the Forest
of about 1465–1470 (Ashmolean Museum, Oxford) and
A Young Lady of Fashion
of the 1460s (fig. 3).
15
Furthermore, Early Renaissance portraits are hampered by a lack of documentation and plagued by shifting attributions. For example, the Chambéry painting was once associated with Uccello, but is now thought to be by Domenico Veneziano (about 1400–1461), whereas the Boston portrait was purchased as a Domenico and is now attributed to Uccello.
16
Significantly, the Boston and Clowes panels are distinguished as the only known independent, panel portraits currently given to the artist.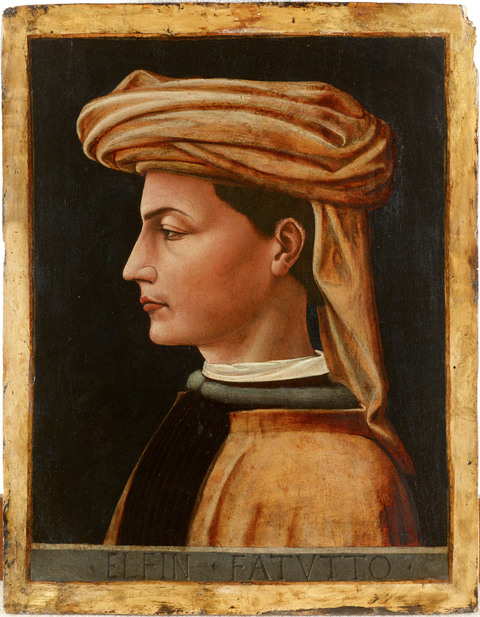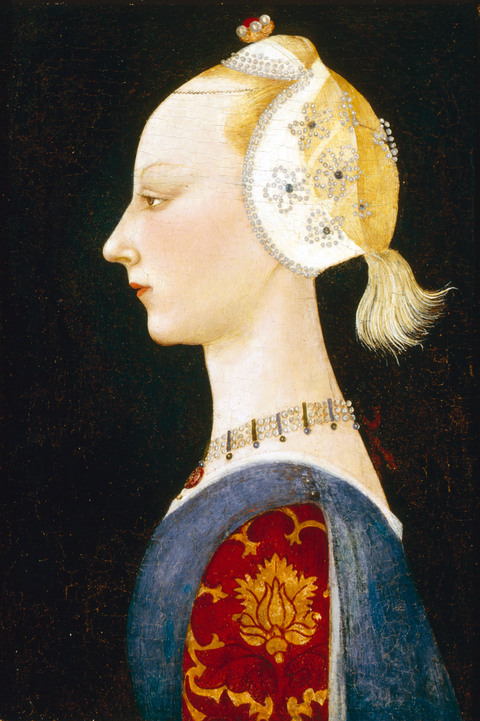 5

Recorded provenance for the Clowes painting is limited. Dr. George H.A. Clowes purchased it in 1942 from the E. and A. Silbermann Galleries in New York as the expertly appraised work of Uccello. 17 Among its advocates were Lionello Venturi, Hans Tietze, and William Suida.18 Despite their assertions, this painting failed to garner further support and lapsed into obscurity. Matters were not helped when, in 1965, the painting was sent to Harvard's Fogg Museum for analysis, whereupon paint tested for solubility at the object's edge was found to dissolve readily in acetone.19 As a result of this restricted sampling area, it was presumed that the overall work was modern.

6

Decades later, in 1980, Carlo Volpe championed this virtually ignored portrait. Acknowledging its condition and unusual format, he placed it around the 1430s and praised its luminous quality and formal perfection: "But what a hallmark of formal perfection, what happy complicity of the eye and the compass; and that subtle, solitary dialogue, between the full form turned in space and the cut of the profile." 20 This renewed interest garnered substantial attention among scholars who dated the painting between the 1430s and 1450s.21

7

In 2002, the Clowes painting received international exposure in the Italian exhibition Masaccio e le origini del Rinascimento.22 This was only the second recorded exhibition of the portrait, and a considerable departure from its regional debut 40 years earlier in Bloomington, Indiana. Miklós Boskovits pursued the loan arguing that the work "has not received the attention of scholars it would certainly merit. To allow specialists of Renaissance painting to study the original…would in all probability help the critical re-evaluation of the Indianapolis portrait; in our opinion, indeed, this picture illustrates very well the cultural climate of Florence at about 1430."23 The exhibition marked the 600th anniversary of Masaccio's birth and featured numerous works by Donatello, Masolino, Fra Angelico, and Filippo Lippi, among other leading quattrocento artists. Within this authoritative context, the Clowes Portrait of a Young Man was unequivocally displayed as the work of Paolo Uccello. Moreover, it was distinguished as the only portrait in the exhibition. But its reception was not without skepticism. In a review, the art historian Angelo Tartuferi was struck by the Clowes painting, writing that it "in some aspects 'compels' the perception of incredible modernity, such as not to completely exorcise suspicions of inauthenticity that has always accompanied it in a more or less veiled manner."24 This cautious assessment was not unfair considering what little was known about the painting.

8

Technical analysis has since revealed the painting's hidden complexities. X-radiography shows the portrait is an inset panel measuring approximately 52.6 × 46.4 cm (fig. 4).

25

The edges of this inset are rounded along the top and bottom with the left and right sides squared. The wood of the surrounding polygonal framework is not consistent with the central inset panel, which bears signs of woodworm tunneling (inactive). This evidence suggests the portrait—whether originally conceived as a rectilinear or

tondo

portrait—was, for some reason, later modified to a 16-sided polygonal format.

26

Additionally, the painting is fitted with a

cradle

. When and why these changes occurred is not clearly documented (see below), and examination for purposes of wood identification and

dendrochronology

is not currently possible.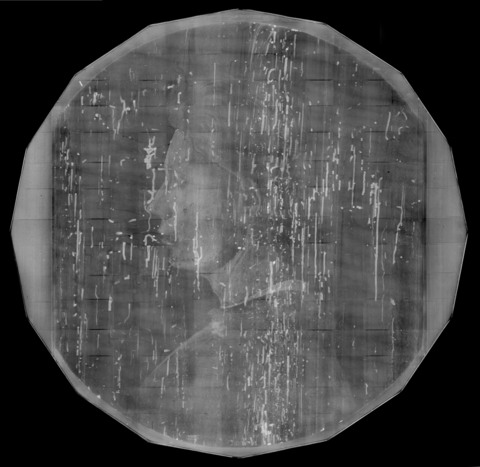 9
In tracing this object's provenance, the earliest reference dates to the 1941 expertise authored by Venturi who notes: "Some years ago I saw in Paris the portrait of a young man in a polygonal form, of sixteen sides.… Your painting was in the Émile Gavet [1830–1904] Collection, Paris, about fifty years ago."
27
This claim is supported by the presence of several Paris customs stamps affixed to the cradling of the back along with the penciled notation "Calve Collection" (a phonetic spelling of Gavet?) (see "Distinguishing Marks" section of the
Technical Examination Report
; also fig. 5
)
. Boskovits linked the painting to that of a fifteenth-century Umbrian portrait in Gavet's auction catalog of 1897.
28
Among the paintings listed, there is only one by an Umbrian: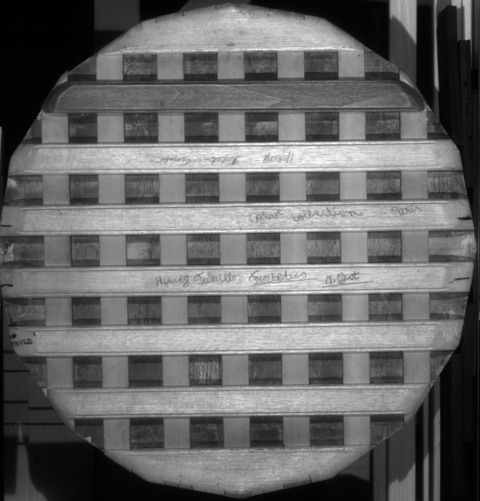 10

" Portrait of a Man, Umbrian School, end of the 15th century. The figure, a beardless young man, whose face is framed by long, curly hair wearing a cap with a narrow brim, is seen in half-length. Dressed in a dark green doublet with a small gold-embroidered collar and light green sleeves, he turns his head to the right and tilts it back, the mouth in an ecstatic attitude. Dark green background. Oak panel, Diam. 47 [cm]."29
11

The visual description does not strongly correspond to the Clowes painting as we know it, but the measurements and technical analysis hint at correlations (see below). Furthermore, on provenance, twice written on the cradle is the name of Prince Tasziló II Festetics de Tolna (1850–1933) of Budapest, a Hungarian royal married to the British noble Lady Mary Victoria Douglas-Hamilton (1850–1922). 30 If once owned by the Festetics family, supporting evidence to this effect has not come to light.31

12

Archival images identify three distinct aesthetic and physical stages in the painting's history. Probably the earliest of these is an undated, duplicate pair of black-and-white gelatin prints housed in the National Gallery of Art Library in Washington, DC.

32

While the image is dark it is possible to discern the rounded top and bottom edges of the insert panel. The figure's profile displays heavy shading around the eye, nose, and jawline (fig. 6). Importantly, the image shows no evidence of the surrounding polygonal format. The back of both photos bears the Duveen Brothers gallery stamp and the written measurements "57 × 47 cm", the approximate dimensions of the inset panel as well as the entry in the Gavet catalogue. These indicate the state of the panel

before

the polygonal modification. By comparison, a second set of black-and-white photographs, also in the Richter Archive, shows the painting with its now familiar polygonal shape (fig. 7).

33

Here the portrait bears a marked reduction in shading around the face and subtle refinement to the outline along the front of the neck. This set of photographs may have originated with the Silberman Galleries and they very likely provide a point of reference to what Suida claimed was the painting's "highly satisfactory state of preservation."

34

After viewing the portrait in New York, Tietze wrote that it was the "best preserved of those attributed to this very rare master."

35

Third and finally, is a photo negative that postdates treatment by the New York-based restorer Daniel Goldreyer who, in 1962, proposed the following: "Painting will be cleaned, cracks and missing areas will be

filled

, sealed and

inpainted

to match original texture and

varnished

."

36

The result of this treatment was increased refinement around the face and to the hairline at the nape of the neck (fig. 8).

37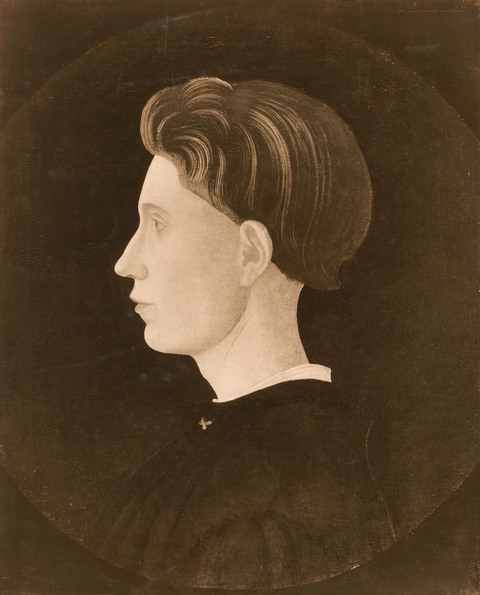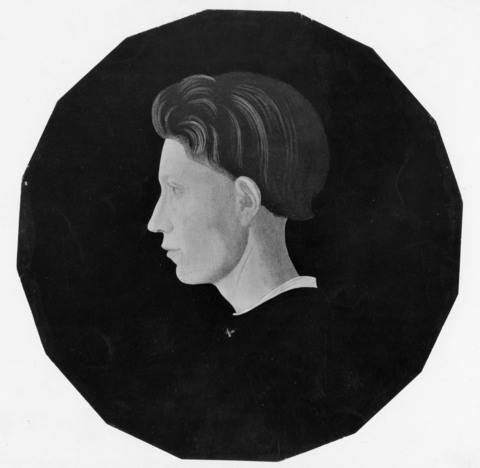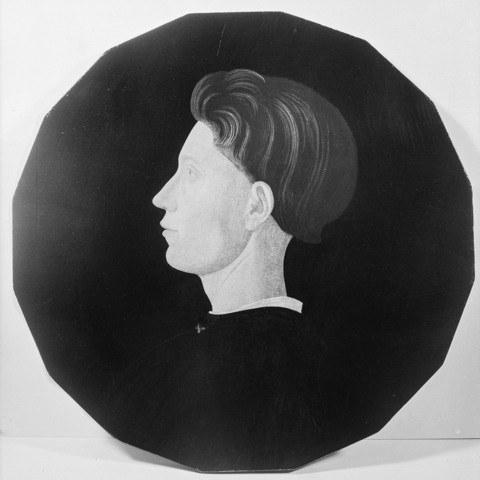 13
The handling of painting is difficult to access. It is structurally stable, but it suffers aesthetically from extremely thick and reticulated restorer's varnish, damaged paint, and poorly aged
restoration
materials.
38
Infrared reflectography (IRR) and high magnification reveal the extent of abrasion and damage to the original paint and the broad application of
overpaint
to the background as well as copious areas of
retouching
from earlier restoration campaigns, much of which has badly discolored (fig. 9).
39
No
underdrawing
is visible in the infrared reflectogram, but raking light yields evidence of an
incised line
that delineates the garment, whereas a heavy indentation follows along the face and neck
(
fig. 10
)
. Uccello was known to have used a metal stylus to incise lines as in
Saint George Slaying the Dragon
of about 1430 (National Gallery of Victoria, Melbourne) and
The Hunt in the Forest
.
40
Further evidence of the working process is visible in the X-ray that reveals adjustments such as the presence of a second garment tie located just above that which is now visible and the Adam's apple, which becomes less pronounced.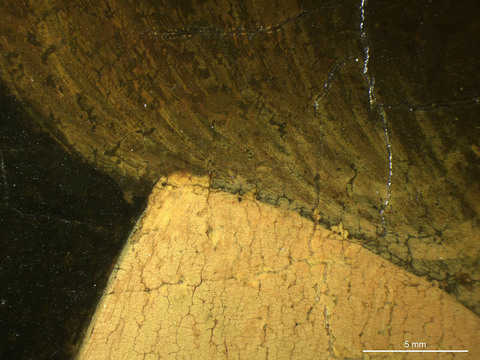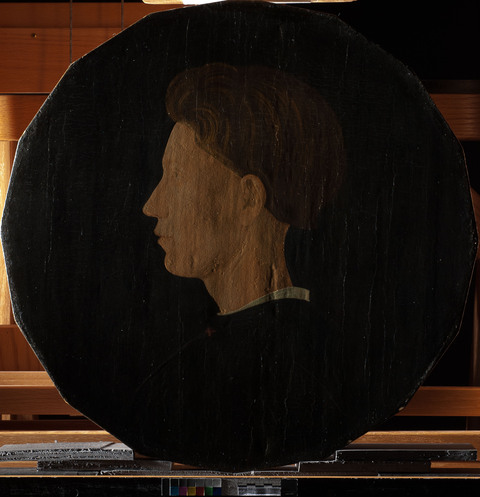 14

Because of concerns related to the invasive nature of cross-section sampling, recent materials analysis was limited to in situ X-ray fluorescence (XRF).41 This non-destructive technique is useful toward identifying specific elements in association with pigments, but it does not distinguish between paint layers. As a result, readings from the Clowes painting provide cumulative element signals and not a stratified chronology of materials (see XRF results in the Technical Examination Report). Because of multiple, past treatments, it was not unexpected to find these results inconclusive. In general, there were strong signals for elements associated with lead white and earth pigments, materials that have been in use since antiquity, as well as weak or trace signals for zinc and titanium, expected to relate to later restoration campaigns. Of note was a strong signal for copper in areas of the garment suggesting the use of azurite that corresponds to a blue color, which is visible through some of the cracking; however, further analysis is required.

15

Cross-section sampling might yield more specific information regarding materials including that of the binding medium, which has yet to be identified. A clue may be implied by the presence of surface pitting located along the sitter's white collar. This may suggest the loss of

lead soaps

, a condition associated with the reaction between an oil-based

binder

and a lead-based pigment, which would correspond with the strong lead signal recorded in that area (fig. 11. See also XRF readings nos. 10–12 in the

Technical Examination Report

).

42

From at least the 1430s, Uccello employed oil-based media—

glazes

,

tempera grassa

, and oil paint—to varying degrees.

43

These include the judicious application of glazes over silver leaf and

tempera grassa

used to paint the London

Battle of San Romano

and his wholesale use of oil on canvas for

Saint George and the Dragon

of about 1470 (London, National Gallery of Art).

44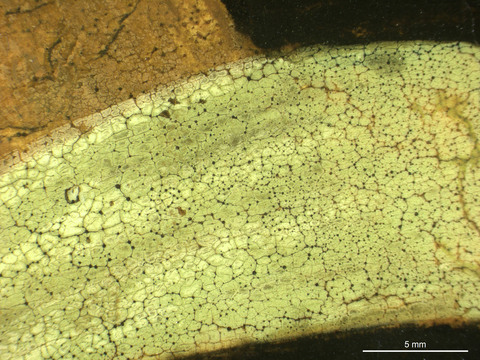 16

Archival and technical evidence have significantly broadened knowledge of this complex painting. Photographs provide a visual record documenting changes, and scientific analysis confirms that the technique and materials are consistent with fifteenth-century practices. Presuming the Prato frescoes were, indeed, painted by Uccello, then the attribution of the Clowes painting to him would not be unwarranted. However, further research and analysis are yet required and, for the time being, this Portrait of a Young Man remains enigmatic.
---
Author
---
Provenance
Probably Emile Gavet (1830–1904), Paris.45
Probably Count Tassilo Festetics (1850–1933), Budapest.46
Possibly (Duveen Brothers, Paris) in the inter-war period.47
(E. and A. Silberman Galleries, New York);
G.H. A. Clowes, Indianapolis, in 1942;48
Clowes Fund Collection, Indianapolis, in 1958, and on long-term loan to the Indianapolis Museum of Art since 1971 (C10001);
Given to the Indianapolis Museum of Art, now the Indianapolis Museum of Art at Newfields, in 2014.
---
Exhibitions
Indiana University Museum of Art, Bloomington, 1962, Italian and Spanish Paintings from the Clowes Fund Collection, no. 6;
Casa Masaccio, San Giovanni Valdarno, Italy, 2002 [extended to 26 January 2003], Masaccio e le origini del Rinascimento;
Indianapolis Museum of Art at Newfields, 2019, Life and Legacy: Portraits from the Clowes Collection, as Circle of Uccello.
---
References
Mark Roskill, "Clowes Collection Catalogue" (unpublished typed manuscript, IMA Clowes archive, Indianapolis Museum of Art, Indianapolis, IN, 1968);
A. Ian Fraser, A Catalogue of the Clowes Collection (Indianapolis: Indianapolis Museum of Art, 1973), 26 (reproduced);
C. Volpe, "Paolo Uccello a Bologna". Paragone, XXXI, 365 (July 1980): 3–28, in particular 16, fig. 6 (reproduced);
Alessandro Angelini, Pittura di luce: Giovanni di Francesco e l'arte fiorentina di metà Quattrocento, ed. Luciano Bellosi (Milan: Electa, 1990), 73–77;
Miklós Boskovits "Da Masaccio a Piero dell Pollaiolo: Studi sul ritratto Fiorentino Quattrocentesco," Arte Cristiana 85, no. 781 (July–August 1997): 255–63, fig. 1 (reproduced);
Laurence B. Kanter, "The 'cose piccole' of Paolo Uccello. Apollo (August 2000): 11–20, fig. 14 (reproduced);
Miklós Boskovits, "Appunti sugli inizi di Masaccio e sulla pittura fiorentina del suo tempo," in Masaccio e le origini del Rinascimento, ed. Luciano Bellosi, Lauro Cavazzini, and Aldo Galli, exh. cat. Casa Masaccio, San Giovanni Valdarno, Italy, 20 September–21 December 2002 (Milan: Skira, 2002), 53–75, in particular 67;
Miklós Boskovits, "Paolo Uccello, Portrait of a Young Man, about 1430–1435," in Masaccio e le origini del Rinascimento, ed. Luciano Bellosi, Lauro Cavazzini, and Aldo Galli, exh. cat. Casa Masaccio, San Giovanni Valdarno, Italy, 20 September–21 December 2002 (Milan: Skira, 2002), 194–95, cat. no. 32 (reproduced);
Angelo Tartuferi, "La mostra 'Masaccio e le origini del Rinascimento' a San Giovanni Valdrano," Gazzetta antiquaria 42, no. 2 (November 2002): 34–39;
Miklós Boskovits and David Alan Brown, ed., Italian Paintings of the Fifteenth Century, (Oxford University Press: New York and Oxford, 2003), 456n20, 593n17.
Hugh Hudson, Paolo Uccello: Artist of the Florentine Renaissance Republic (Saarbrücken: Verlag Dr. Müller, 2008), 2, 177–80, 278–80, cat. no.16; (reproduced);
Mauro Minardi, Paolo Uccello (Milan: 24 Ore Cultura, 2017), 113–15, fig. 97 (reproduced).
---
Notes